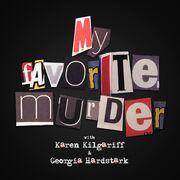 My Favorite Murder is an Exactly Right podcast hosted by Karen Kilgariff and Georgia Hardstark. It reached the number one spot on the iTunes podcast comedy chart in May 2016.
In the podcast, Georgia and Karen discuss their favorite murders—including some unsolved cases and survival stories—and talk about how not to get murdered. To date, there have been twenty three different episodes, two of which are murder minisodes. At the end of each episode, Georgia and Karen discuss your hometown murders and give helpful (if a little blunt) advice.
Remember to stay sexy and don't get murdered!
Follow MFM on TWITTER | FACEBOOK | INSTAGRAM. 
Recommended books, shows, etc. by Karen and Georgia on the MFM Podcast.
Where to Listen:
[
]
Wherever you listen to podcasts.
Official My Favorite Murder merch and fan cult membership can be bought on the MFM official website and Exactly Right official site .
Stay Sexy And Don't Get Murdered

[

]
Geogia Hardstark and Karen Kilgariff wrote the non-fiction book Stay Sexy and Don't Get Murdered, which was released on May 28, 2019.
Time Line:
[
]
In January 2016, they released their first episode of My Favorite Murder with Feral Audio
The podcast debuted as #25 on the iTunes podcast charts and peaked at #3 on April 27, 2018.
My Favorite Murder appeared on an episode of the Cracked podcast.
In June of 2016 Steven Ray Morris became the podcast's producer, making his first appearance in episode 23 Making A Twenty-Thirderer.
September 2017, My Favorite Murder moved from Feral Audio to Earwolf.
On November 28, 2018, Kilgariff and Hardstark introduced their new podcast network Exactly Right (named after a phrase often said on the podcast by Kilgariff).
On April 12, 2018 My Favorite Murder announced their new platform for fans called the Fan Cult.
In November 2019, My Favorite Murder hosted a weekend-long event called "My Favorite Weekend" in Santa Barbara, California.The event featured meet and greets, an art exhibit, exclusive merchandise, and live shows from the Exactly Right network.
My Favorite Murder Crew
[
]
Jay
Stephen
MFM Sayings
[
]
| Saying | Episode |
| --- | --- |
| Stay Sexy and don't get murdered | |
| Stay Saved & Do God's Mission | |
| You're in a cult call you dad! | |
| Toxic masculinity ruins the party again | |
| The husband did it! | |
| I'm the daddy in the situation | |
| Fuck Polietness | |
| Triflers need not apply | |
| You know if Florida is kicking you out, you're probably a big piece of shit | |
| Hoscue restig | |
| This is terrible. Keep going | |
| Wait, it gets worse. | |
| Let's sit crooked and talk straight... | |
| Lock your f*cking door! | |
| Get a job. Buy your own shit. Stay out of the forest | |
| | |
Trivia
[
]
The My Favorite Murder fanbase is called Murderinos.
Karen and Georgia have appeared in the animated series by Nick Terry on Youtube.
Pages and categories
[
]